Pirogovo Moscow Research Medical University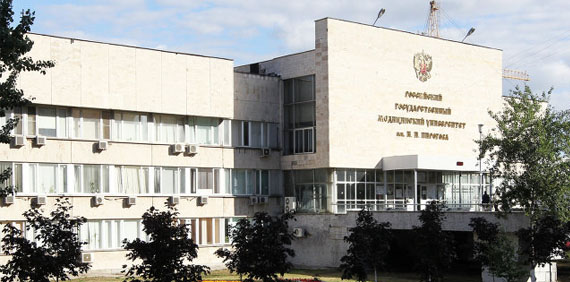 Moscow Pirogovo Medical University -one of the best in Europe
Moscow Pirogovo medical University is recognized by MCI, WHO and other health organizations .Duration of studies for general medicine course is 6 years with English medium. The University offers following specialties: General medicine, pediatrics, dentistry, Pharmacy, Medical Biochemistry, medical cybernetics, clinical psychology, social work and biology.
The university history began in 1906 when a medical faculty was opened as a part of Moscow higher Women's Courses. The idea of organizing the medical faculty of the Moscow higher women's courses opened up new prospects for attracting women to higher education. During its existence the University has trained more than 80,000 doctors who fulfilled and continue to fulfill their professional duty in all parts of Russia and abroad. The University is closely linked to practical Public health having bases in major urban hospitals, dispensaries and maternity homes. All this allow the university to provide multi-level training of doctors and scientists in the field of medicine and Biomedicine.
Higher Medical Education.
The University offers following studies/ specialties Degrees: 1) General medicine, 2) Pediatrics 3) Stomatology 4) Pharmacy 5) Medical Biochemistry 6) Medical Cybernetics 7) Clinical Psychology 8) Social Work 9) Biology
Faculty of General Medicine of the Pirogovo Medical University
This is the most popular faculty among applicants every year. After 6 years of education graduates get a medical degree on "General medicine" specialty. In the first courses students study basic subjects necessary for future practice: biology, physics, chemistry, anatomy, histology, as well as Latin and foreign languages (English, French, and German), philosophy, economic theory, physical education, etc. The difficult of the first courses is the third one, when students study basic knowledge of sciences, such as pathological anatomy, pathological physiology, pharmacology, general surgery, preliminary study of internal diseases and many other difficult clinical and preclinical disciplines. Clinical thinking, expertise and professional skills are established in senior courses, when students start practicing in hospitals and learn more about medical staff duties. Faculties of General Medicine take an active part in education of residence providing theory and practical knowledge in more than 50 medical specialties.
Pediatric faculty of the Pirogov Medical University was founded in 1930 and was the first such faculty in the world!
Though 38 faculties of various universities in Russia provide educational programs on pediatric today, Pediatric faculty of our University is in the lead. The estimable successors of great pediatrician teachers – wonderful people, world-renowned scientists, excellent doctors and brilliant organizers – work here. Students study medicine at 54 university departments for 6 years. They study pediatrics at specific departments (preliminary study of children's diseases, faculty pediatrics, hospital pediatrics, children's infectious diseases, children's surgical diseases, etc.), as well as at the departments where they study diagnosis, treatment and prevention of certain diseases among adults, since a 14-15 years old child is an almost formed organism.
Along with clinical subjects, students study fundamental natural science, biomedical and medical preventive disciplines. This approach helps to qualify highly skilled specialists in more than 100 medical specialties.
During the internship future pediatricians master their skills at point of care in different medical centers. Special focus is on prevention of diseases and on upbringing of a healthy child.
Dentistry is taught in the University since 1922.
The University developed one of the leading scientific schools in Russia, founded by professor Gilaria-Izdislav Vilga.
• In 2008 a separate faculty was separated from the University structure. Nowadays the dentistry study program is intramural and lasts 5 years.
• During the second year of study students begin practicing in phantom classes, simulating real-life dentist's workplace, to apply their knowledge and skills. Pirogov RNRMU provides each student with modern equipment, phantom table, phantom head, dental headpieces, lights, dental foot pedal, dental curing lights, all instruments and consumables.
• In senior courses students receive patients under the guidance of professors in Moscow clinics. Undergraduates have an opportunity to attend workshops and international dental exhibitions learning from the experience of the International dental community in the field of medical education based on the achievements of modern science and technology.
• Graduates can apply to dental residency programs: "conservative dentistry", "dental surgery", "dental orthopedics", "pediatric dentistry", "and oral and maxillofacial surgery «,» orthodontics".
MEDICAL STUDIES
The educational process is conducted in the state language of the Russian Federation — Russian. By decision of the Academic Council of the University some classes are conducted in foreign languages. English used as a language mediator for the students of faculty for training foreign citizens.
RESIDENCY COURSES
Applicants who qualifies MBBS in other countries and work as practice medicine abroad need to evaluate their MBBS degrees first
And check equivalency by getting approvals first by Russian Education and Science Ministry. Please visit http://www,nic.gov.ru/docs/foreign/confirmation
Following MBBS degree in Russia -following residency training for 2 years is offered:
Obstetrics and Gynecology -Anesthesiology and Intensive Care-Hematology -Genetics-General Physician Practice(Family Medicine) -Coloproctology-Clinical Laboratory Diagnostics-geriatrics-Oncology-
Pathological Anatomy-Dermatology-Otolaryngology-Roentgenology-Dietology-Ophthalmology-forensic Examination-Infection Diseases-Reconstructive Surgery- Cardiology,-Endovascular-Diagnosis-and–
Diagnostic treatment-Functional Diagnostics-clinical Pharmacology-Cardiovascular Surgery-Pediatric Cardiology-cosmetology-Traumatology and Orthopedics-Pediatric Oncology-Physiotherapy and Sports Medicine
Surgery-Pediatric Urology-Andrology-Neurology-Urology-Pediatric Surgery-Nephrology-Maxillofacial Surgery-Pediatric Endocrinology-Pulmonology-Endoscopy-Neonatology-Rheumatology-Organization of Health Service and Social Health-Pediatrics-Reflex Therapy-Therapeutic Stomatology-Psychiatry-Ambulance Services-Dental Surgery-Psychiatry-Necrology-Therapy-Orthopedic Stomatology-Psychotherapy-Physiotherapy-Children's Stomatology-Allergology and Immunology-phthisiology-Orthodontia-Gastroenterology-Endocrinology
Eligibility: for General Medicine and other specialties
Minimum 65% in 12th in Biology, Chemistry and English. (NEET qualified for Indian students)
Students pay directly to the University on the basis of   agreement.
Note: Invitation+ Visa+ Apostle+ Translation cum consular attestation charges to be paid separately in addition to the service charges.
VISA REQUIREMENTS 
The following are the visa requirements to get study visa of Russian Federation.
A  filled Visa Application Form- Follows on request
International Passport (Traveling Document valid for  not less than two year).
Original Invitation Letter from the University- We shall assist
Original School Certificates ( O level/ SSCE/ HSSC , Bachelor or Master Degree if available), (
should be legalized) .General Health- Medical Certificate issued at least two months prior the entrance in to Russia (should be legalized). HIV- AIDS test issued at least two months prior to the entrance (should be legalized)
6 photos 3.5 x 4.5 cm . To and Fro Air ticket valid for one year.
P.S.: In some countries Embassy of Russian Federation require legalization of documents from specific departments and In some countries Russian embassy require some additional documents.
TUITION FEE 2021-2022 –
FEE STRUCTURE; Moscow 2nd Medical Research University ( Pirogovo) 
Prices in Rubles per year – Average exchange rate 65 Rubles to USD
Preparatory( 10 months) -270.000R(4200$), General medicine(6 yrs bilingual) -440.000R(6750$), Dentistry (5yrs bilingual)-440.000R (6750$),Pediatric (6 yrs bilingual )-380.000R(5850$), Pharmacy(5 yrs bilingual) 340.000R(5230$), Medical biochemistry (6yrs bilingual) -440.000R( 6750$), Residency ( 2yrs)420.000yr(6000$)+(10mo Russian)270.000R(4200$)Hostel about 400$/yr , Health insurance abut 300 $/yr and living costs about 3600$/yr
For more details ,please contact us on E-mail:- medic-eurasia@gmail.com 
At your services:
Administration Whatsapp : + 7 968 8478905
Email: medic.eurasia@gmail.com